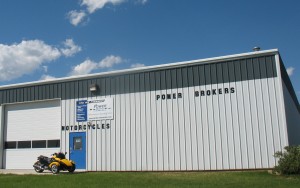 Our Mission Statement: At Power Brokers of the Black Hills Inc. our mission is to help our customers, buyers and sellers, to make informed decisions regarding the  sale or purchase of a powersports product. We strive for fair and just compensation in all transactions, while doing our best to treat each and every customer with the same kindness and respect with which we expect to be treated. Thanks for choosing Power Brokers of the Black Hills Inc.
–  Bryan and Taray Hall
Business: Power Brokers of the Black Hills Inc.
Function: Consignment sales of :  Motorcycles/ATVs/Watercraft/Snowmobiles.
Address: 1330 Jess St.
Rapid City SD 57701
Phone: 605-721-7355
Fax: 605-721-7361
Owners: Bryan and Taray Hall
Power Brokers of the Black Hills Inc. came to be with the help of our family and many friends. We give special thanks to our friends Jim and Theresa LeTendre, the owners of Power Brokers Inc. located in Sioux Falls S.D. It is their generosity and sharing of their business experience that has enabled us to bring you Power Brokers of the Black Hills Inc. We feel the natural beauty of the Black Hills region is one of the best locations to enjoy the outdoors on a powersports machine. Whether the twisty two lanes on a street bike or the trail through the trees on a dirt bike, atv or snowmobile. We are excited to share our wonderful experiences as well as creating new ones for you the customer. We are located one block off Cambell St. at 1330 Jess St.  in Rapid City, S.D.. (see map and directions). We invite you to visit often…the store and the web-site. We think you'll find that our slogan "Helping powersports buyers and sellers" is really the way we do business.